As we are sure many have read, we are strong believers in the "flatten the curve" mindset. This focuses on reducing the spread by self-isolating to limit the number of person interactions you have during your day. This may sound extreme, but this has become the new normal in recent days. There are a number of strategies we as a business can enact to make sure we're doing our part to limit the virus from spreading.
1. Mandatory "Work-from-Home" Policy
Here at Next Pathway, our number one priority is the health and safety of our employees and clients. Implementing a mandatory work from home policy ensures our community remains safe and risk-free.
Working from home has been a common practice amongst several companies such as Google, Microsoft and the vast start up community Canada holds. It is an opportunity to allow employees to connect anywhere with the flexibility of working from the safety of their own home.
It is evident that shifting to a "work from home" policy will become the new normal over the next several weeks amid the spread of COVID-19. With Prime Minister Justin Trudeau announcing Canada will be officially closing its borders, and the Province of Ontario now being in a state of emergency and the Canadian Government set to provide a $82B aid package to help Canadians through COVID-19; it is more important now than ever, that we focus on remaining calm, taking all appropriate measures to prevent the spread of COVID-19.
As mentioned earlier, "flatten the curve" mindset is the most important for times like this to minimize continued spread of COVID-19. Referring to the fantastic analysis researcher Tomas Pueyo has conducted, we have included a few graphs below that will paint a clearer picture on why it is the most important measure to take right now.
Chart below shows analysis of Western countries growing at exponential growth rates and some countries doubling every 2 days.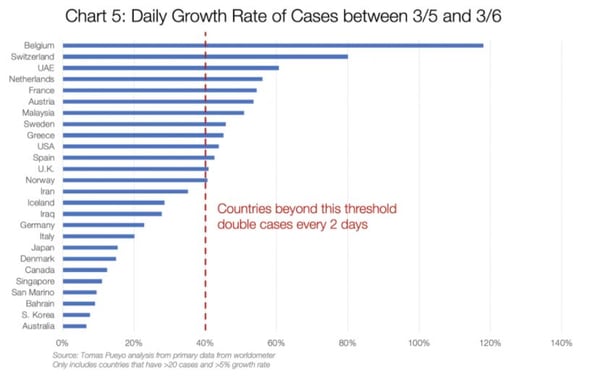 Although majority of infections are mild, there is still a percentage of the population who will be severely impacted. Around 20% of cases require hospitalization, 5% of cases require the Intensive Care Unit (ICU), and around 2.5% require very intense help with ventilators or ECMO (extra-corporeal oxygenation).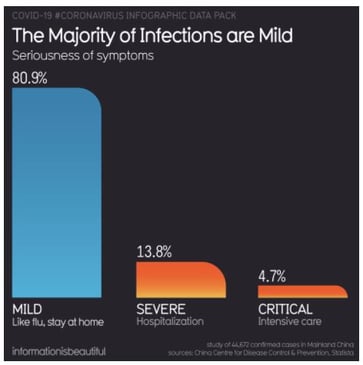 2. Heavy use of collaboration technology
Our team will also continue to be in constant communication and interaction with one another to alleviate any feeling of isolation thanks to several tools we continue to leverage, including Zoom, Basecamp and Slack – to ensure we're staying customer-focused and having a team-first feeling.

Video-conferencing via Zoom has become our staple for all internal and customer meetings. Slack is our go-to for all internal company communication and lastly, Basecamp to ensure all projects are moving in a fluid manner.

Thanks to the use of these technologies, our staff and clients are protected. We are in full communication with our clients and continue to connect on all ongoing projects.

For us, in these uncertain times, it's business as… unusual.


3. Putting Families First
We are all in this together. Which means, giving our employees the time and flexibility, they may need to ensure they feel safe. It is the responsibility of all business and community leaders to come together and support families and businesses every step of the way. Our entire management team has made it a priority to ensure all of our staff are informed of new global and Canadian healthcare updates, enacting best practices to ensure the health of their households, and assisting them wherever possible should they be experiencing any uncertainty or discomfort.

Over the next few weeks for Next Pathway, our future decision-making will be based on monitoring the news from the World Health Organization and Canadian health officials. For now, we believe the responsible thing to do is to support one another and keep our spirits up.