The Women of Next Pathway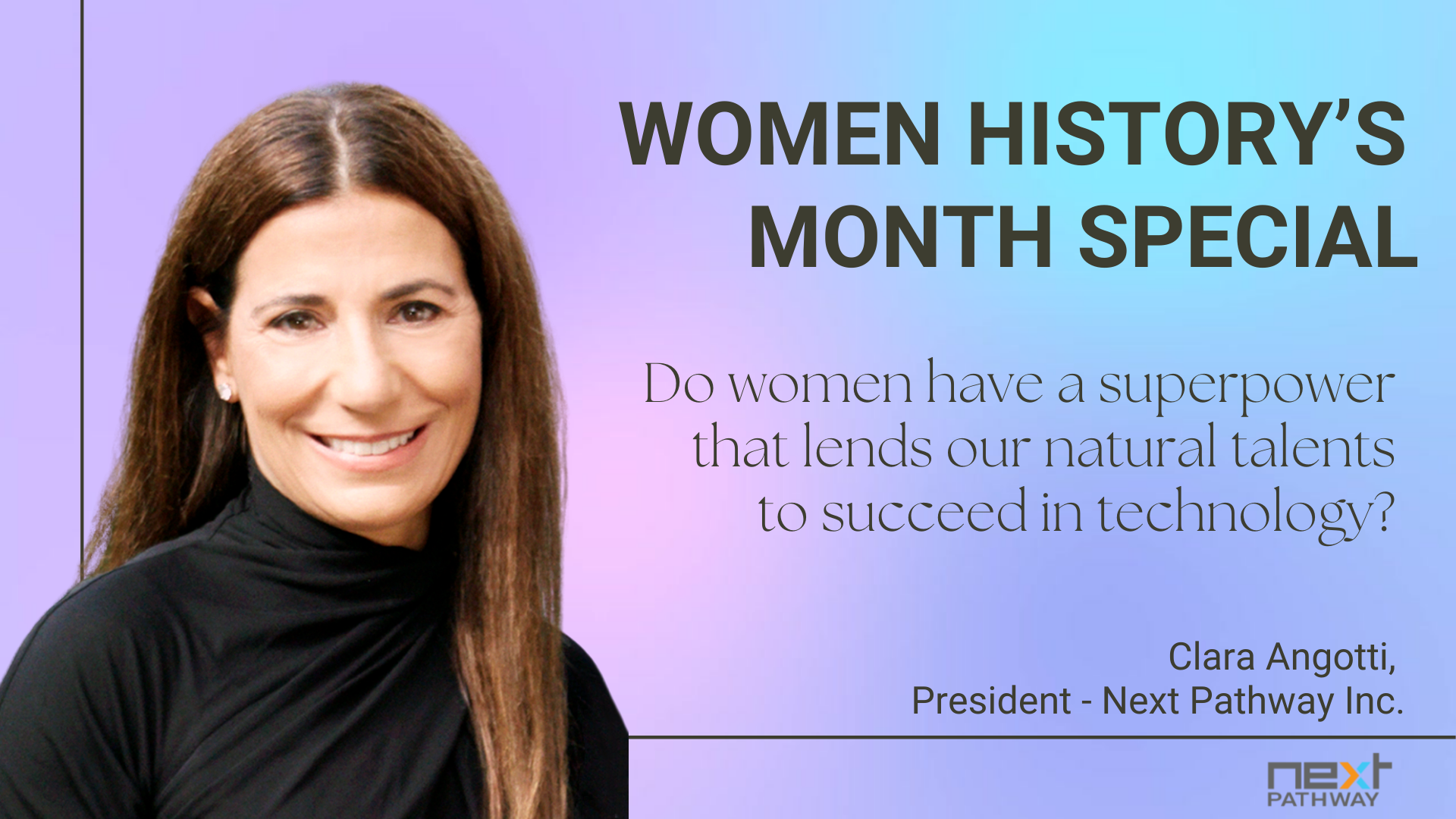 I have had the pleasure of working alongside many of these women for several years. They are creative, talented, and innovative. I have watched them mature, take on leadership roles and professionally grow. As a female technology entrepreneur, it is incredibly gratifying to watch a woman, especially a co-worker, succeed. Of course, the men who work at Next Pathway are equally talented and dedicated to their craft and our firm. However, as this is Women's History Month, I wanted to shine a spotlight on the incredible female engineers of Next Pathway.
Interestingly, almost all the women were attracted to technology because it allowed them the ability to combine their technical/analytical skills and their creative talents. This is the fascinating aspect of a career in STEAM; depending on your individual strengths and interests, the field of technology can be both hard-core coding and artistic. In fact, one of our staff started out as a web designer and is now a member of our R&D engineering team. There are common character traits present in all these jobs in technology, no matter the specialized function: perseverance, fierce curiosity, a determination to learn and to not being afraid to ask questions.
I was curious to know if women brought a particular advantage to building software. Do women have a superpower that lends our natural talents to succeed in technology? The answer was a resounding "Yes!" These include an ability to focus on details and bringing an empathy quotient to the team culture. Also cited was different perspective women bring when problem solving, This is separate from the fact that diversity brings about a better, more inclusive software design.
Women are still underrepresented in technology, a reality that is much discussed in the media. At Next Pathway, women make-up only 25% of the company staff. I asked about the hurdles for women in tech. The answers confirm that women shoulder many of the same challenges today as 20 years ago: self-doubt, confidence gaps, being talked over and balancing family and a career. Clearly, we still have much work to do.
I also asked what they would say to the next generation of technologists. Again, the answers were interesting and inspiring – trust and believe in yourself, embrace your uniqueness, don't be intimidated, work hard and acquire new skills. I was pleased to see that they would also tell the next generation that a career in tech is lively and rewarding.
Lastly, I wanted to know about the women that have inspired them. I was prepared for the traditional answers pointing to the female technology trailblazers who paved the road for women in tech—women like Ada Lovelace. But the answers were as unique and diverse as the female engineers who work at Next Pathway. Women such as Beyonce Knowles, Haidi Zhang, a Chinese writer and chairwoman of China Administration of Sports for Persons with Disabilities, Michelle Obama, and Audrey Tang, the Digital Minister of Taiwan, have all inspired our female engineers.
In closing, I believe that building great software starts with building diverse teams that support and challenge each other. There most assuredly is a place for women in technology. Technologists are changing our world, from space exploration to genome research, climate change and so much more. The future of our world is dependant on unleashing bright minds – on women and men working together to solve problems, make our world safer and lead us into peace.
About Next Pathway
Next Pathway is the Automated Cloud Migration company. Powered by the SHIFT™ Migration Suite, Next Pathway automates the end-to-end challenges companies experience when migrating applications to the cloud. For more information, please visit nextpathway.com.
Connect with Next Pathway